Are you sitting on your sofa thinking about your next DIY project? Is there a home improvement project that you've been dying to get underway but are not sure where to start? If you answered "yes" to either of these questions then you might also be thinking about which tools you need to use, how much the project will cost, and where you can find the best DIY tool hire. Well, don't worry… easyToolhire tool hire has got your back. Discover more, as we look at the most important things to consider when choosing which DIY tool hire company you should go to for all your DIY tool hire needs.
Quality
Reputable tool hire companies purchase tools and equipment that are robust because they know that they must stand up to the toughest jobs and heavy usage. Quality tool hire businesses stock quality products that can do the job you need them to do. Often these items are from top of the range and respectable manufacturers such as JCB, Hilti, Stihl, and Makita. Talk to your friendly and local DIY tool hire depot about some of the products they stock and by which manufacturer.
Latest equipment
Tool hire companies ensure that they have the latest equipment in stock. This means you won't be hiring out old equipment that has the potential to break and hold up a project. Hiring tools and renting equipment also gives your project that something extra. If you have access to the latest and most effective tools to do the job, you will have the competitive edge and will be able to finish your home improvement or DIY project quicker. Efficiency will be on your side.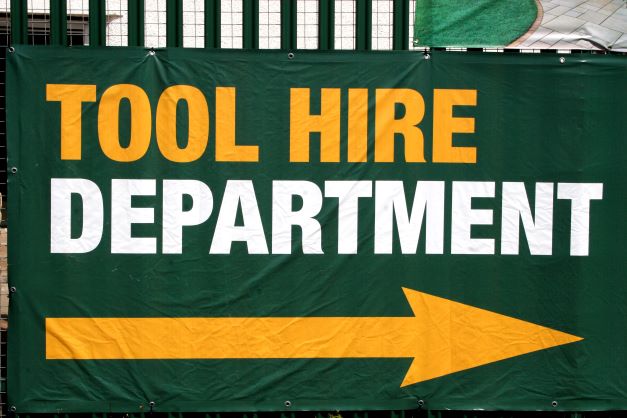 Maintenance
Quality DIY tool hire companies regularly maintain the tools and equipment that are hired out because they have a responsibility to ensure that they all work properly. If you choose to hire equipment, rather than buy it, you don't have that responsibility. What's more, you won't lose time on a project because you have to maintain pieces of kit or equipment.
Ease of hire
Does your chosen DIY tool hire provider have the facility to let you hire tools online? Hiring tools and renting equipment should be as easy as booking a hotel or hiring a car online. We book flights online all the time. Why not tools? Having the ability to hire tools and equipment at the touch of a button brings peace of mind. Finish off last-minute jobs and fix unforeseen problems because you can access a range of tools online, 24/7.
Online ID verification
If you would like to hire tools from a DIY tool hire provider, you will be required to show proof of ID. Look out for reputable tool hire businesses that offer online ID verification. Online ID verification enables a customer to take a picture of their ID and of their proof of address, such as a utility bill, and upload the image/information safely. Online ID verification ensures a smooth, quick, and easy tool hire process. By moving all ID verification online, it reduces the amount of paperwork that needs to be done and reduces the time spent going back and forth with the DIY tool hire depot.
Be green
Are you concerned about climate change? If the environment is important to you, look for a DIY tool hire provider that is environmentally responsible. Look for a DIY tool hire provider that enables you to carbon offset your tool hire order at point of checkout. Each time you hire tools and equipment, you can reduce your environmental impact.
Delivery/collection
Look for DIY tool hire companies that offer a range of delivery opinions to suit you and your project. Would you like to collect your tools from one of several convenient depots or would you like your DIY tool hire provider to deliver and collect your chosen tools for a small fee? Check out tool hire businesses that offer you a range of options and make your home improvement project easier.
We hope you have found this blog useful. Finding a quality DIY tool hire provider is easy if you think about the tools you need and what you value in a business. If you are looking for quality tools, good value, knowledgeable staff, excellent local knowledge, and unrivalled customer service then your DIY tool hire search should be an easy one.